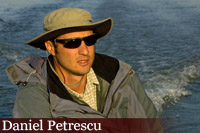 My name, if you didn't figure it out yet, is  Daniel Petrescu. I was born in the Danube Delta on the 12th of December 1974 and grew up in the area. Here I have learned a lot about the nature and about the people. I started to guide trips for naturalists around the Danube Delta and Dobrogea about 12 years ago where I got in contact with the world of photography. I started to take pictures in a serious manner in 1999 and I enjoy it more and more every day. I am also the co owner of Ibis tours www.ibis-tours.ro and the traveling gives me a lot of opportunities to use my camera. I now try to make a living from photography so if you are searching nature pictures for publishing, printing or other purposes visit my nature stock photos web page www.naturestockphotos.ro .
My pictures where published in magazines, newspapers, books, web articles and have been printed for advertisement. I have exhibited the photographs in various exhibitions around Europe and Romania. Recently The Romanian Post has printed a limited edition of stamps and envelopes featuring one of my pictures. You can check it by reading this post … Click for more
Here are some shots picturing me,  taken by friends and tourists during my trips and holidays.